Vorbericht: DYING FETUS – The Wrong Tour To Fuck With Europe 2017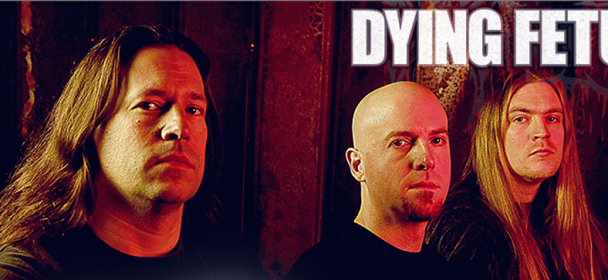 Seit dem 13.10.2017 rollt sie durch Europa: Die DYING-FETUS-Dampfwalze! Sie kommen zu und über uns, um uns mit ihrem neuen Album "Wrong One To Fuck With" das Glück in unsere Gesichter zu treten, tief hinein in unsere Schädel! Ja! JAAA!
Nach über fünf Jahren haben sich DYING FETUS nicht neu erfunden, aber sie beweisen, dass sie weiterhin zur weltweiten Speerspitze des Brutalo-Death Metal zählen, der nicht nur brachial und völlig abgedreht klingt, sondern mit unglaublich präziser technischer Finesse dargeboten wird – und dabei herrlich nachvollziehbar, fassbar, verständlich und manifest ist! Das Paket wird vervollständigt von und mit Psycroptic, Beyond Creation und Disentomb, alles keine Freunde von Traurigkeit im weiten Feld der finsterharten Töne.
35 Termine – und 35 Mal werden sie staunende Menschen zurücklassen, mit blutenden Ohren, verschwitzten Gesichtern, strähnigen Haaren, sabberndem Hirn! Wir sehen uns dann am 18.11.2017 in Leipzig!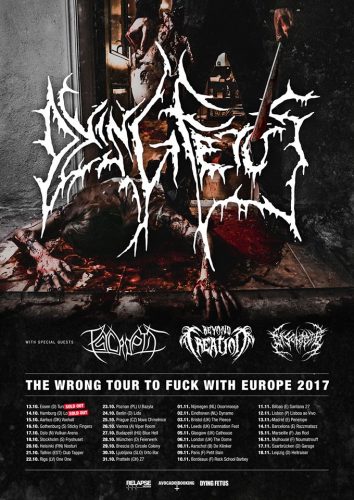 (Quelle: www.facebook.com/DyingFetus/)
Ähnliche Artikel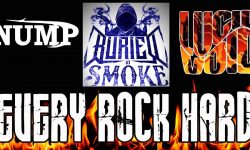 Wer es an diesem Wochenende nicht nach Balingen geschafft hat, sollte sich heute Abend ins Aschaffenburger Colos-Saal bewegen, dort boxt
Weiterlesen